WITH a new personal best, Guyana's Chantoba Bright took gold in the girls' long jump, but it was Compton Caesar's take down of Brazil's Derick De Souza Silva in the boys' 100 metres that had the National Track and Field Centre crowd on their feet cheering as the first day in the South American Junior Championships played out here at the Leonora facility.There were some who questioned Caesar's ability to overcome the Brazilian, but he put all doubts to rest after he utilised a fast start and pushed for his win all the way to the finish line in 10.37 seconds. De Souza Silva clocked 10.45 seconds.
Guyana's Chantoba Bright during her winning leap in the girls' long jumpGuyana's Tyrell Peters just missed out on third place after he finished with 10.77 seconds, behind Argentina's Daniel Londero who had a time of 10.70 seconds. Commenting after the race, an excited Caesar shared that he just chose to focus on his race and not worry about the competition that the Brazilian was bringing.Caesar now setting his sights on today's 200 metres"I feel great I win the race. In the heats Brazil had a faster time than me but my coach told me not to worry about that, just get a good start in my drive phase and then come down hard. I get a good start, ensure that I was the first person out the blocks, and I did see him [De Souza Silva] coming hard but I just keep on going. I was prepared for this, I trained hard with my coach. I'm just looking for another gold in the 200m, ensure I get a good start," Caesar said.Caesar's gold was just one among a string of continuous great performances, as the medals just kept dropping throughout the night yesterday.With a distance of 6.30m, Bright surprised even herself when she took the girls' long jump win, clearing the distance in her very first jump."Honestly, I did not think I would have pulled it off so far. I was overwhelmed, I was truly amazed with what I did and it was my first jump; I was just shocked, I am just so proud of myself right now, because from a gold at CARIFTA to a new personal best here in my home country, with a gold, it's just overwhelming," Bright expressed.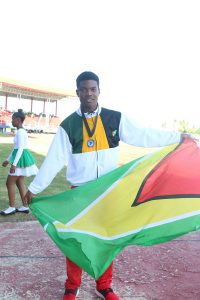 Guyana's Daniel Williams displaying the Golden Arrowhead just after collecting his boys' 400m silver medalBut Bright wasn't the only Guyanese celebrating success in the long jump as Ruth Sanmoogan ended with a bronze medal in the same event.Guyana started the day with three medals – two silver and a bronze–with Daniel Williams and Avon Samuels winning silver in the boys and girls 400m respectively,while Anfernee Headecker took bronze in the boys' 1500m with a time of 4:02.81s.Williams with a time of 48.24 seconds, said remaining calm and not going in with too much over-the-top expectations helped his performance.The event was won by Suriname's Miguel Shepper in 47.90 seconds. Samuels had 55.45 seconds in her race, which was won by Brazil's Tiffani Marinho in 54.25 seconds.Just before Caesar's sprint, Guyana's Onasha Rogers and Kenisha Phillips excited the crowd with a thrilling 100m run in which they finished second and third, respectively, after Brazil's Lorraine Martins gave a powerful performance in taking first place.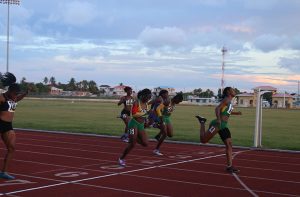 Brazil's Lorraine Martins wins the girls' 100m as Guyana Onasha Rogers and Kenisha Phillips take second and third place respectivelyMartins clocked 11.56 seconds, while Rogers and Phillips followed with 11.71 seconds and 11.78 seconds, respectively.As the night continued there were more medals for Guyana:in the girls' 3000m from Claudrice McKoy and Anfernee Headecker, and Samuel Lynch in the boys 800m.
read more